Hot Water Issues? We Repair & Replace Commercial Water Heaters Fast
Whether you own a condo, apartment complex, hotel, restaurant, or other commercial property, hot water is something that you need plenty of — on demand. After all, if your water heater fails, leaks, or has other issues, you could end up with a lot of unhappy people and a lot of problems. We're here to help prevent that.
We specialize in commercial water heater repair and replacement, and we can either get your water heater back in great working order or replace it with a new one promptly and professionally. No matter what size or type water heater you need or type of repair you need, we'll take care of it fast.
How Do You Know If Your Water Heater Needs To Be Repaired Or Replaced?
Is your water heater loud, smelly, or slow to heat up water?

Do you never seem to have enough hot water for your commercial property's needs?

Trouble keeping your pilot light or main burner lit? Will your pilot light not light at all?

Does your water look a little discolored or off?

Is your water heater leaking or is there water pooling around it?

Does your water always seem to get too hot?
If you answered "Yes" to any of the questions above, there's a good chance you either need to have your water heater repaired or replaced. The licensed Master plumbers here at APCO Plumbing have years of industry experience and can repair water heaters of all kinds — electric, gas, tankless, high-efficiency.
Whether you have a leak, mineral buildup, hard water has caused corrosion inside your water heater, or you have a failed component like a pressure relief valve, we can make the repairs quickly so you can get things back up and running fast.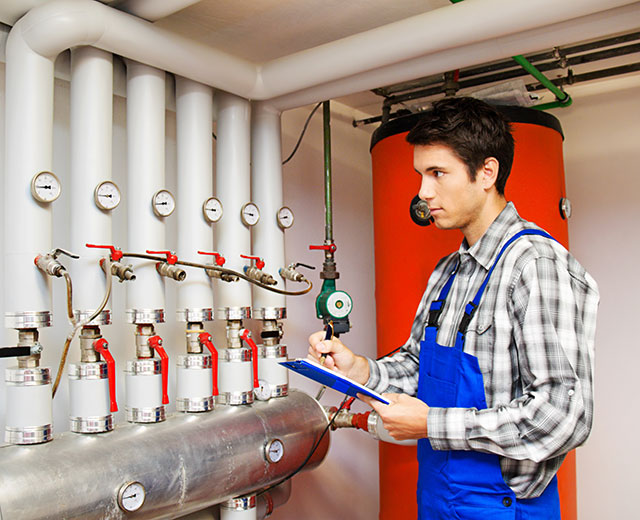 We'll start with a full inspection of your water heater — checking for leaks, faulty or failing parts, buildup, corrosion, and other issues — and provide you with our findings, as well as an accurate estimate for repairs.
If it's time to replace your commercial water heater with something bigger, better, more efficient, or just different, we can take care of that for you, too. We install the very best and most reliable tankless and conventional water heaters on the market. We'll go over the options with you, as well as the pros of each, and help you decide which will best meet your hot water needs and save you money. That's what we're here for!
We Offer Free Estimates & Same Day Service — Call Today
Don't let water heater issues make running your business or managing and maintaining your commercial property even harder. Call on APCO Plumbing for all of your water heater repair, maintenance, and replacement needs.
Our highly trained local technicians can quickly diagnose and repair or replace your water heater to keep the hot water flowing while maximizing efficiency for your commercial property. We back all our work with our 100% customer satisfaction guarantee, and we're Carroll County's trusted plumber for reasonable prices, expert work, and customer-focused service. So call today or request an appointment online and get the high level of service you deserve!
Our TV inspection capability is one of our best tools for locating and diagnosing your commercial plumbing problems. Ask us about it today.
REQUEST AN APPOINTMENT ONLINE